Well today was a roller coaster for many definitions of the word. Ultimately it was a good day but it took a while to get sorted out.
JP and I rolled out around 7am to head up over the pass next to the Royal Gorge and on to Salida. I had arm warmers on and JP had… well, jersey and shorts. I swear he never gets cold. We had an easy warm up through town then started cruising up the hill outside of town.
I've got to admit, so far the climbs in the Rockies are MUCH more polite than what we saw in the East or in the Ozarks. Long slow climbs and descents that only rarely require brakes. Pretty cool. JP and I made it about 2/3rds of the way up the climb and pulled over to chat, switch bottles, etc. I got going a few minutes before him… shortly after I got a text that said he broke a spoke. Apparently when he clipped out his heel came around and busted the nipple off. His wheel was way out of true, so even tying up the spoke wasn't going to work.
Art came and picked him up and JP went back down the hill with his busted wheel to Canon City. I pushed on up and over and on my way to Salida.
On her way out of town Heidi took a detour to check out what she could see of the Royal Gorge Bridge and the fire damage in the area. While she couldn't get up to the bridge due to the road closure, she did get to see how serious the fire was.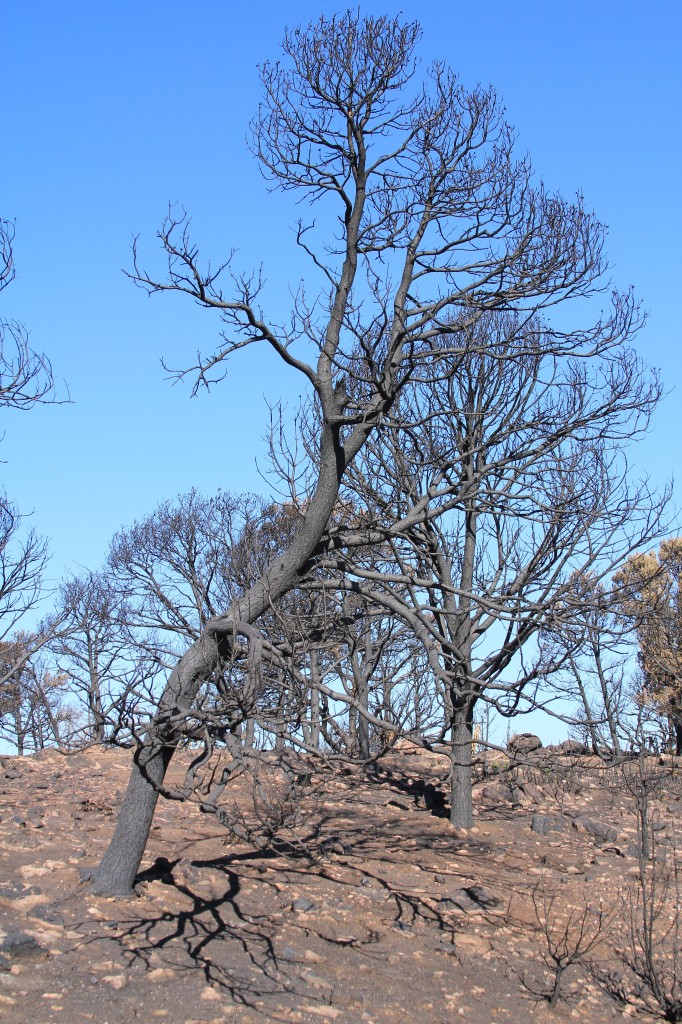 A lot of landscape was burned during the fire. I can't imagine what it did to the park.  We do know most of the structures were destroyed.  The bison herd however was ok and safely moved to a nearby ranch.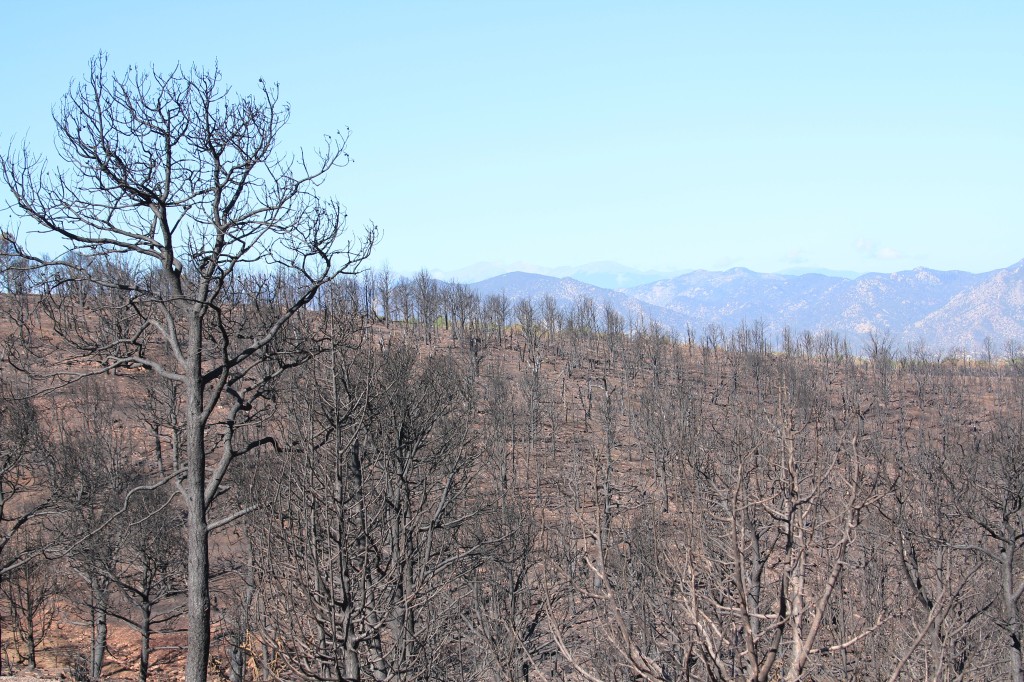 Action Shot! Application of sunscreen! (actually, it was a reshoot because Heidi missed the first one. Note it's not actually hitting my face)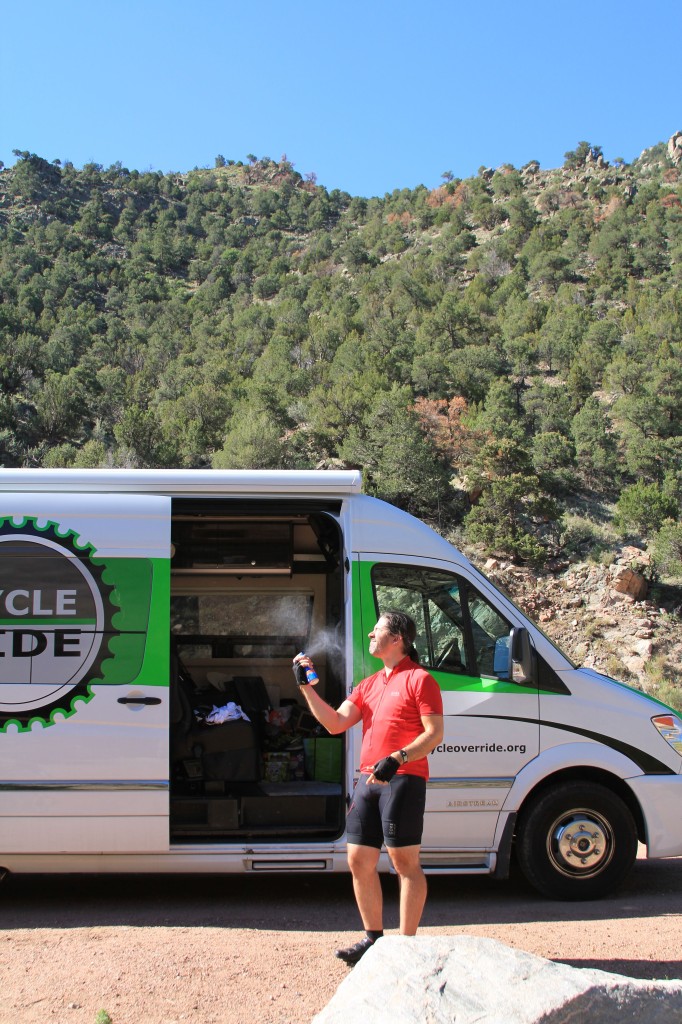 There were some really nice rest stops along the Arkansas River. Heidi stopped with the boys and played in the water for a bit while I rode on.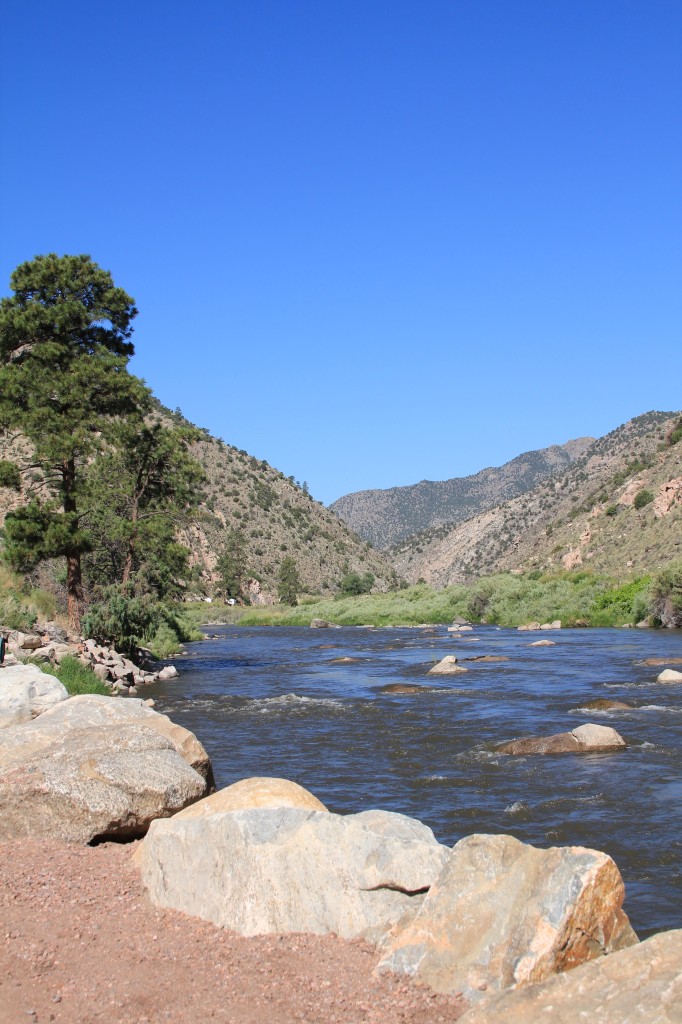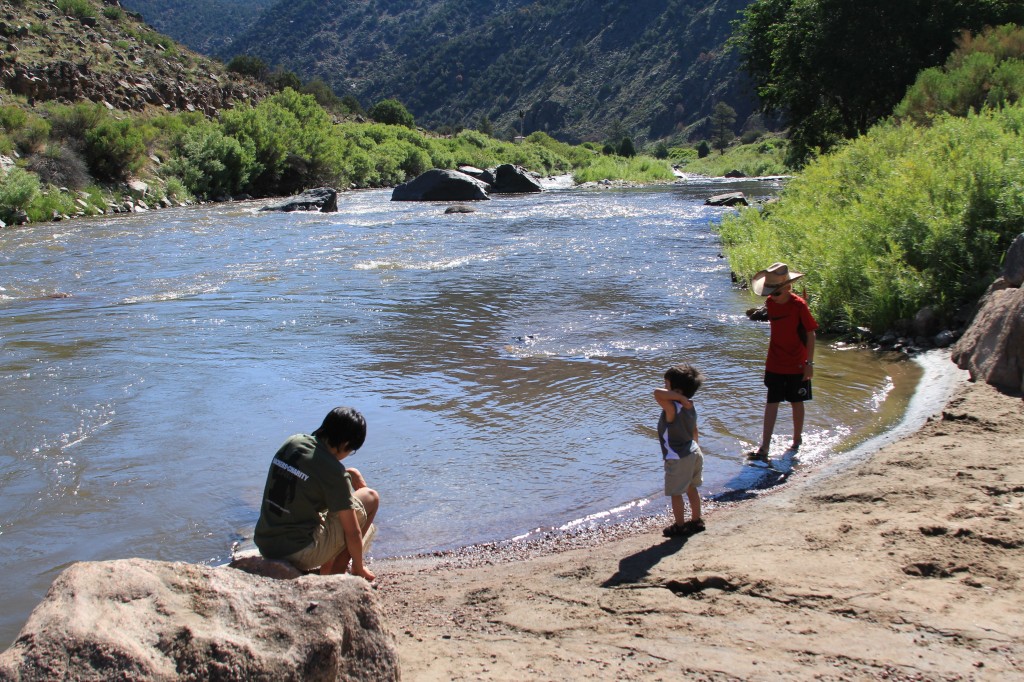 For the vast majority of the ride today, we didn't have cell service. First, what's really interesting about that is JP was supposed to have a 9am call. While that call turned in to a series of emails, he never would have been able to send those emails if he hadn't broke the spoke. We didn't have cell service from about mile 10 to mile 50. JP would have been totally out of luck.
Also, when we don't have cell service, it changes the way SAG is run. Rather than run ahead of us and hang out, the SAG vehicles will hang behind us for a set period of time, then come up and see how things are going. So today while Heidi was in the river with the boys, I was riding ahead. That's when my fun started. I was taking it easy, enjoying the scenery… but around mile 23 I started to feel pretty off. I got lightheaded and started really struggling with the sun. I've had that happen before when I ride and usually it's because I've had too much coffee or something similar. I figured I'd just keep taking it easy and it would fade.
From there, things sorta went downhill. I lost track of time and eventually looked down at my bike computer.. it felt like I had been riding for an hour since I last checked, but it had only been like 10 minutes. Further, I realized I was starting to get tunnel vision and was _really_ lightheaded. If my drinking in college taught me anything its that when you've got tunnel vision, it's time to stop. So I did. Luckily Heidi and the boys were only a few minutes behind me and they were up to me shortly after I got off my bike. My riding day was done… which I'm really pretty upset about. It's an amazing section of road, and it certainly wasn't challenging. I assume it's the elevation (this all hit around 6.5k') so I'm hopeful with a few more days up here I'll be fine.
And "yes" I was plenty hydrated, "yes" I had plenty of sleep, "yes" I've been eating well. *shrug*
Meanwhile, JP did his emails, got his wheel fixed, and SAG'd back up to where he broke down. He finished his climb, shot down the back side of the hill and pushed on. He pushed on for 36 miles and decided to stop for lunch and head in to Salida. He still had a productive day even with all the excitement.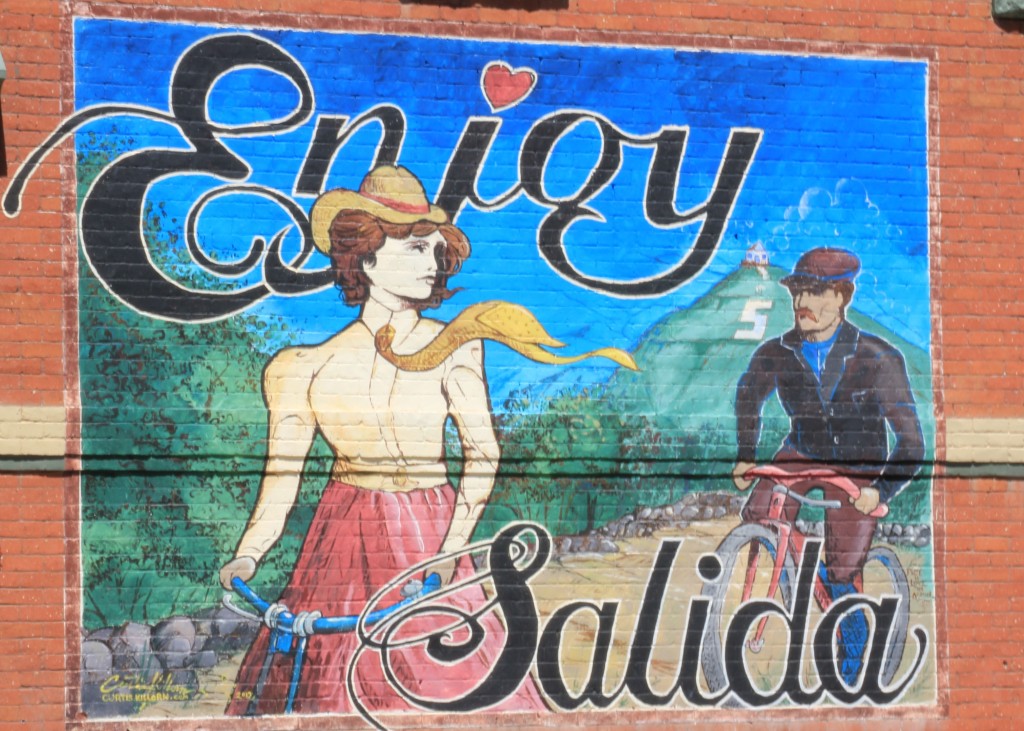 Shortly after Heidi, the kids,and I  got to Salida, all hell broke loose at work. I'll spare you the details, but I had a very busy day on the phone and email. At some point I was even planning how to get to Denver and get back to the office by tomorrow morning (it could be done, but it wasn't cheap). Luckily, I was able to work with folks back at the office and get things resolved… but it was touch and go for a bit.
Lost in all this excitement is the fact that we're in Salida. And to be frank, and with no disrespect to our friends in Maryland…
We would move here in a heartbeat. This place is VERY us. Even Bobby, after playing in a local park, got in to the MCC and asked "can we move here?"  Both the older boys said they'd be more than happy to scrap the rest of the trip and work logistics for a move from Maryland to here.
This town is amazing. Bikes everywhere (seriously, the probably out number the people), amazing food, great beer, lots of music. There's tons to do outdoors including Jeeping, fishing, skiing (when the weather is different) hanging out in the river, and generally bumming around outside. As the waitress at dinner pointed out "this is the first place I've lived where not only is the place cool, but the people are cool too".
So yeah. I _think_ we'll leave town tomorrow and head to the next stop. But if you don't hear from us, check out our new blog, "The Potters Move to Colorado."
J "my calves are too big for cowboy boots" P, Bobby, and I all had our hats on tonight. I even had a local assume I was from Texas. I guess that's a win.